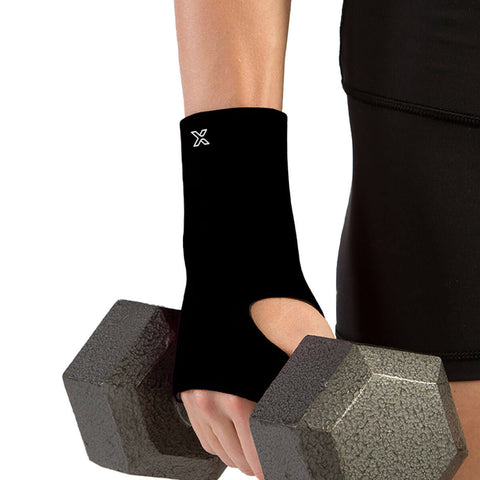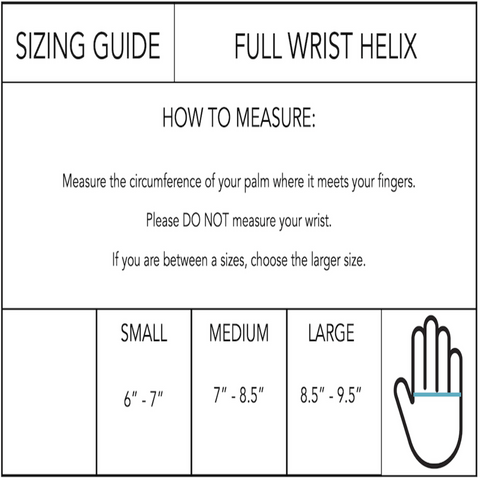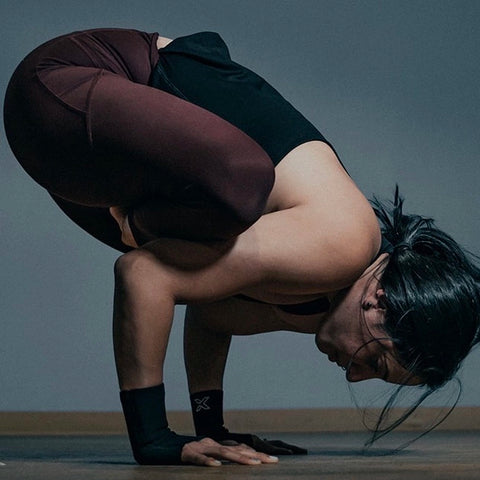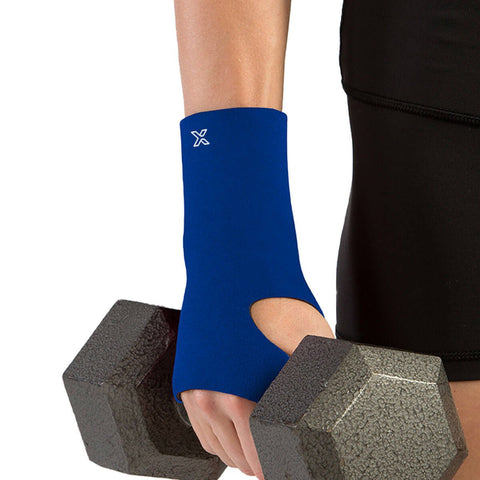 Full Wrist Helix
The Full Wrist compression sleeve provides comfortable support for sprains and strains, tendonitis, and arthritis of the wrist and helps with the management of swelling due to injury or overuse.
Sizing Information
Please see Sizing Chart in product images
How To Put On Your Helix
Click here to see videos on how to properly put on your Body Helix
Shipping & Return Policy
Product Uses
For nearly all sports, the Full Wrist Helix can aid in management of injuries to the muscles, tendons, and ligaments of your wrist including sprains, strains, and tendonitis from overuse or injury by providing warmth and support to your wrist and it's surrounding soft tissues.
The Full Wrist Helix provides support to both your wrist flexors and extensors in a comfortable, easy-to-slip-on compression sleeve, making it the ideal product for injury and re-injury prevention.
The warmth of the Helix provides increased blood flow, helping with management of swelling and arthritis pain.
Because our Full Wrist Helix contains no plastic, it is suitable for high school sports such as volleyball and gymnastics where regulations exist about materials allowed during game time.
What is the difference in styles?
The Full Wrist Helix is a slip-on sleeve that covers the entire wrist joint, the palm and top of the hand, and an area above the wrist joint.It is the preferred product for swelling and when coverage of the hand and the area above the wrist is advised or desired.It is the product of choice for those who have pain at the base of their thumb.
The Adjustable Wrist Helix is a wrap that covers just the wrist joint.It is the preferred product for those who do not want any material in the palm of their hand or who cannot pull a sleeve over their hand and wrist.
Proper fit is important
Please measure the circumference of your hand at your knuckles, where your fingers become your palm.See the diagram for a picture.Please do not measure your wrist.
Which size should I order if I am in between sizes?
Please see sizing chart in product pics above
Brilliant
Quality and performance made by athletes is the best recommendation and is what sold me. For any support or injury I would not choose anything else!
Body Helix products
I've purchased multiple products over the years and have been more than satisfied with the delivery, product quality and customer service.
I recommend any of their compression items heartily.
Full wrist. Thumb part hurts
Everything fits but the thumb. It makes my thumb red and sore even after a few minutes but everywhere else fits just how I like. It's a little disappointing.
Nicole,
I'm sorry that your Helix does not fit to your satisfaction. If you are certain that you have ordered the correct size, and slight adjustments to where the product fits around your thumb do not ease the redness, please contact us so that we can help you find a solution.
Not best fit and can't return
Very itchy and doesn't quite fit correctly. Mainly upset because I received an email after purchase that said no returns or exchanges accepted. Based on this I'll never buy again.
Anna, I am sorry to hear that you are not completely satisfied with your purchase. We would like to make this right for you by allowing you to exchange or return the product. I will send you a private reply so that we can continue this conversation. I hope that you will work with us to find the perfect size or to figure out why the product seems itchy.
Great support and comfortable