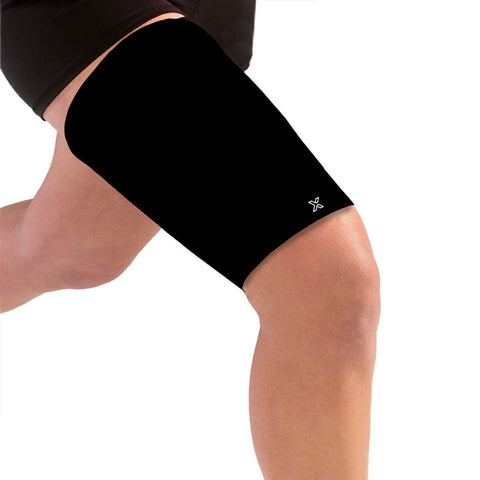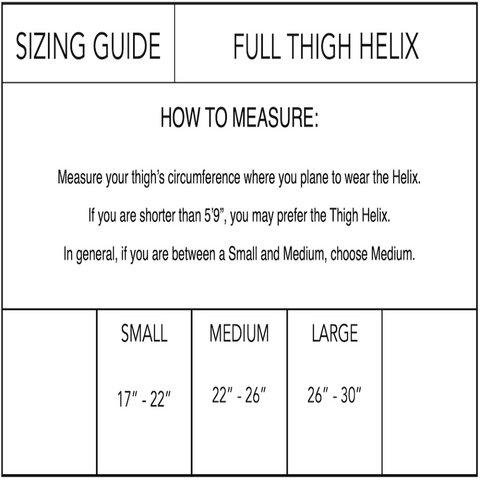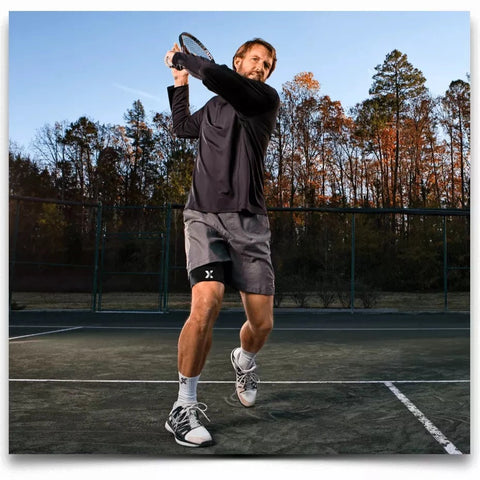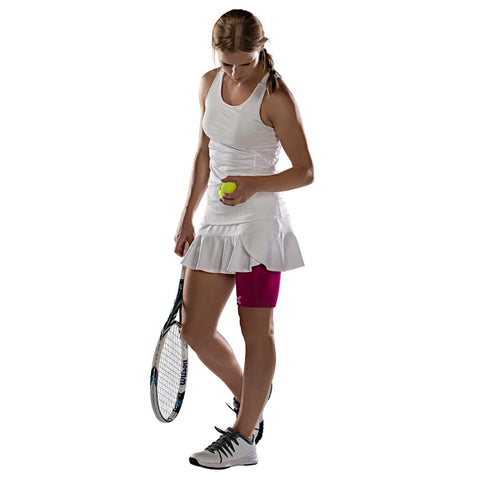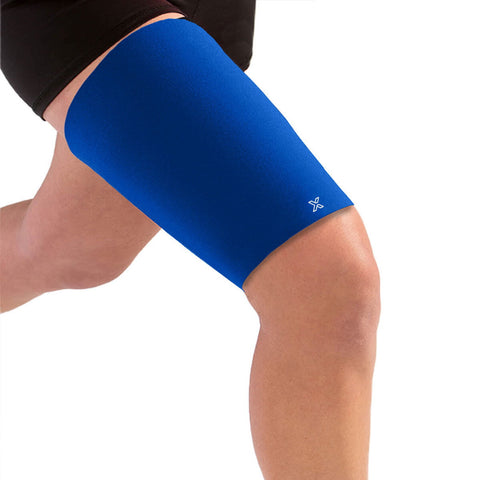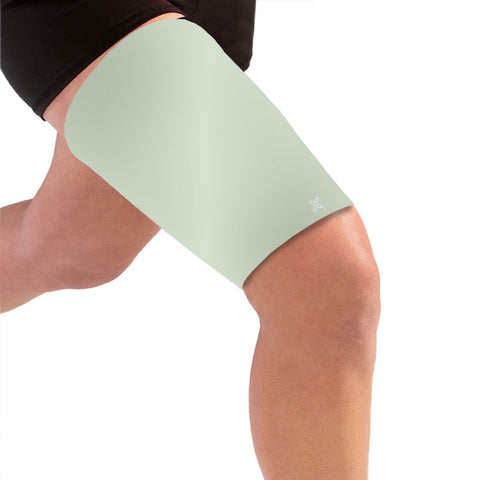 Full Thigh Helix (Long)
The Full Thigh Helix (Long) compression sleeve supports injured hamstrings and quadriceps, helps to reduce fatigue by limiting muscle oscillation, and aids in injury prevention.
Sizing Information
Please see Sizing Chart in product images
How To Put On Your Helix
Click here to see videos on how to properly put on your Body Helix
Shipping & Return Policy
Product Description
The Full Thigh Helix thigh brace provides comfortable and uniform compression of your upper leg and is a must-have for any competitive athlete. If you desire complete coverage of the belly of your thigh muscles, then this longer hamstring compression sleeve is the best choice.

This hamstring compression sleeve is ideal for management of injuries to your hamstring, quadriceps, or groin, enabling you to play through minor pulls/strains/tears/spasms and whatever else you may call the pain you want to manage while you Move Through It.

It is also an excellent choice for prevention of injuries and re-injuries, warming your muscles to increase blood flow and limiting muscle oscillation to delay the onset of muscle fatigue, ensuring you can play at your best and leave it all out there.

Research has shown that warming scar tissue makes that tissue slightly more pliable (more stretchable). Wearing a Full Thigh Helix keeps your scar tissue from old injuries warm, helping to prevent re-injury and relieving strain to your muscle's tendinous attachments.

What is the difference in styles?
The Full Thigh Helix thigh brace is 8.5" long, 2" longer than the Thigh Helix, and is the preferred Helix for athletes 5'9" or taller. It is also sometimes the Helix of choice during the cooler months.
The Thigh Helix is preferred by the shorter athletes and for those who wish to have a smaller portion of their hamstrings and quads protected.
The Adjustable Groin Helix specifically supports the groin muscles, the tendons of the hip flexors, the external rotators of the hips, and the gluteus maximus.
Proper fit is important
Please see sizing chart in product pics above.
Thigh brace long
Good product. Has helped my hamstring injury. But overpriced.
Priceless
Been wearing my new Full thigh Helix for 2 weeks. I have been so pleased with past Helix products that I have used for years, I thought I would get the latest and greatest. I wear calf, thigh and knee sleeves. Almost 72 and still all original parts.
Right Fit
The Full Thigh Helix fit just right and are longer than the previous version I bought years ago