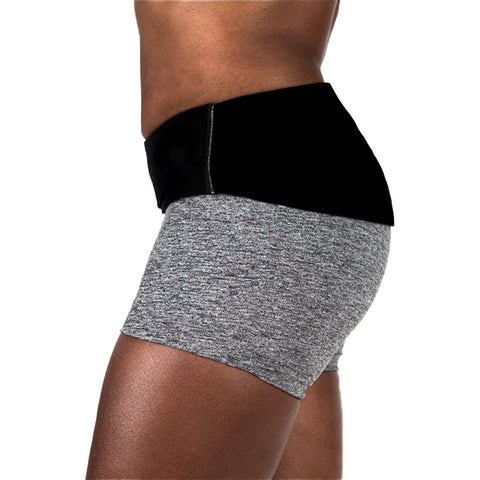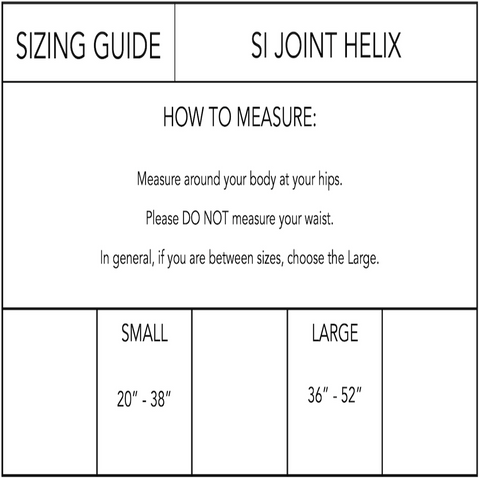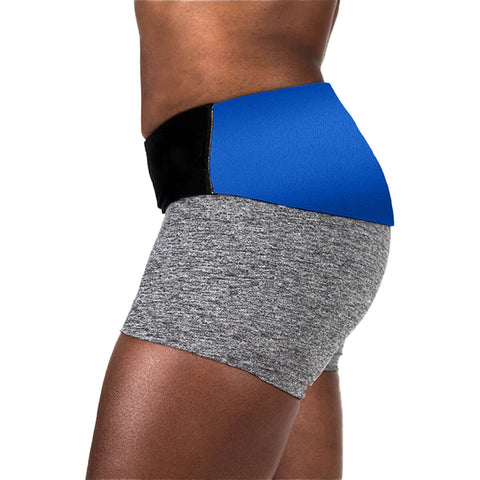 Adjustable SI (Sacroiliac) Joint Helix
The Adjustable SI Joint belt provides sacroiliac joint pain relief for those diagnosed with sacroiliitis,  SI sprain, or lumbosacral strain or sprain.
Sizing Information
Please see Sizing Chart in product images
How To Put On Your Helix
Click here to see videos on how to properly put on your Body Helix
Shipping & Return Policy
Product Description
The Adjustable SI Joint belt provides comfortable support to your sacroiliac joint and to the tendons and muscles surrounding your SI joint and hips. The SI joint is comprised of ligaments that hold the bones of the back (sacrum) and the hip (iliac) together. Forces applied to these ligaments from trauma or during exercise can cause minor or major symptoms, including severe pain and inflammation. The compression and warmth of our sacroiliac support belt may aid in reducing the pain and inflammation associated with damage to the muscles, tendons, and ligaments around your SI joint.

Please note that there are many causes of back pain. Please see medical evaluation for prolonged or severe pain.

Arthritis of the spine is a problem of the spine joints. Our sacroiliac belt will not help pain solely related to arthritis, but if there is associated muscle spasm the compression and warmth may aid in reducing pain.
What is the difference in styles?
The Adjustable Sacroiliac support belt provides warmth and support for a narrower region and is ideal for injuries involving the Sacroiliac Joint. It is also sometimes preferred by those who are short-waisted and during the warmer months in the hotter climes.

The Adjustable Back Helix is wider and provides more support for the lumbosacral and lower thoracic muscles, tendons, and ligaments.
Proper fit is important
Please see sizing chart in product pics above
The sacroiliac belt comes in 2 sizes. The benefits of the compression are lost if you stretch the material past its optimal elasticity, so if you are between sizes, the larger size will usually provide more benefit. The "loop" material can be trimmed without damaging the product but once trimmed cannot be returned.


SI helix
I have had three lower back surgeries and I am an avid golfer. If I didn't have the lower back helix I doubt I would still be on the golf course. Thank you for your products.
Great support.
Very convenient, light weight and does not hinder movement. Reduces pain.
Great Back Support without bulk.
This Back Support is very strong and stays secure while wearing. I really like being able to wear under my clothes discreetly.
Too weak for SI Joint Instability
I am an Air Force Veteran and have been a nurse for 25 years. Since 2013, I have had 3 back surgeries including lumbar spinal fusion. Physical Therapy provide an SI belt which although bulky, provides support and pain relief. I discovered the Helix SI belt and decided to give it a try.
Pro: Quick on/off, comfortable, easy to wash, low profile under clothing.
Con: 20-30 degrees of compression is NOT enough for significant SI joint instability. Also, company included instruction card for a face mask I neither ordered nor received. (???)
Please let me know if you develop an SI belt providing greater compression with same low profile - I would be a willing guinea pig!
Adjustable SI (Sacroiliac) Joint Compression Wrap