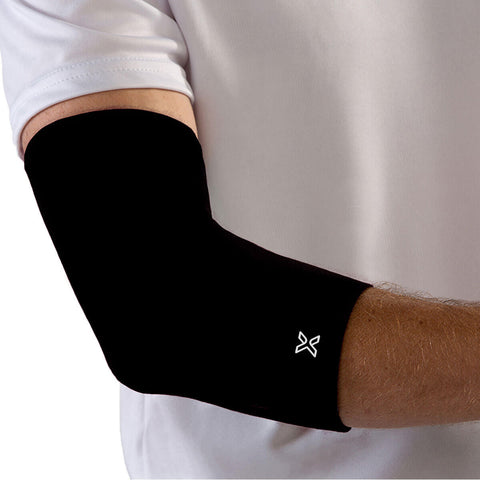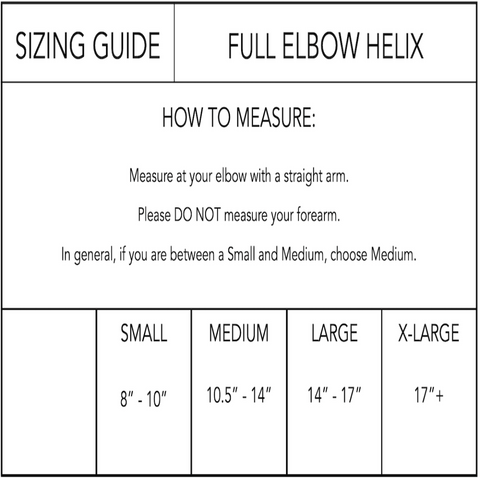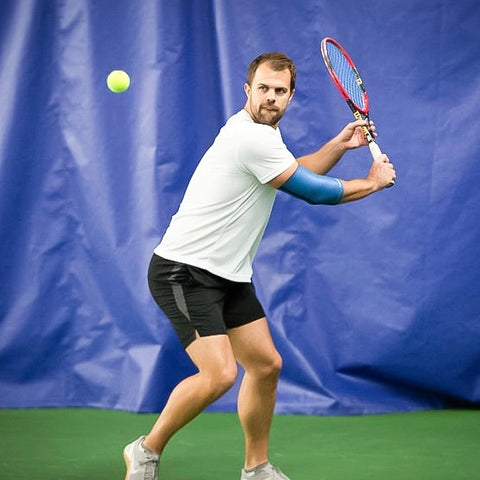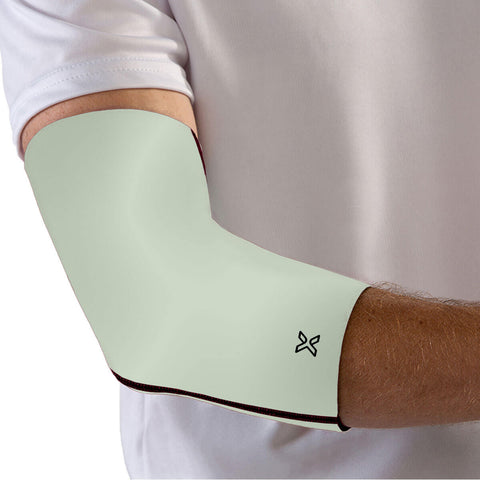 Full Elbow Helix
The Full Elbow compression sleeve provides uniform, comfortable support and is ideal for tennis elbow, golfer's elbow, forearm muscle strains, and generalized elbow pain from issues like arthritis or over-use.
Sizing Information
Please see Sizing Chart in product images
How To Put On Your Helix
Click here to see videos on how to properly put on your Body Helix
Shipping & Return Policy
Product Description
Our Full Elbow compression sleeve provides support and medical grade compression over your entire elbow joint and for the surrounding muscles and tendons above and below your elbow joint, making it an indispensable piece of gear to have in your "toolbox".

The Full Elbow Helix combines form and function - so comfortable you will forget that you have it on and so effective that you will not want to compete without it. Medical grade compression makes our compression sleeve for tennis elbow, golfers elbow, arthritis, and forearm strain more useful than an ordinary sleeve that is meant to just keep things warm.

The incredible stretch and elasticity of the material means you won't lose any range of motion, which is important for a joint that needs full range of motion in order to perform at its best. Because the material locks to your skin when you start sweating, it will not slip, eliminating the need for bulky straps and allowing for an incredibly comfortable fit with uniform compression along the entire length of the Helix.

This Helix is ideal elbow brace for the most common elbow issue - tendonitis, in the form of tennis elbow (pain on the outside of the elbow) and golfer's elbow (pain on the inside of the elbow). It supports your tendons and keeps them warm while you compete, allowing you to Move Through It.

The Full Elbow Helix is also a great choice for injuries to the upper part of your forearm and injuries to the lower portion of your upper arm, diminishing or eliminating pain from inflammation and overuse injuries.

Many athletes who have had elbow issues or struggle with chronic elbow pain find that wearing our elbow compression sleeve even after they have recovered eliminates re-injury and gives them the confidence to go all-out all the time. Those athletes have discovered that injury prevention is far easier than injury management.

What is the difference in styles?
The Full Elbow Helix covers the entire elbow joint. The material extends both below the elbow joint and above the elbow joint by several inches, also giving support to the upper forearm and lower portion of the upper arm. It is the product of choice for recent tendonitis and for injuries to the elbow or to the musculature around the elbow joint.

The Elbow Helix is a shorter product, covering the entire elbow joint but nothing below or above the joint. It is the preferred product for injury prevention, arthritis elbow compression, and is sometimes the preferred golfers elbow compression sleeve.
Proper fit is important

Please see sizing chart in product pics above
It is important to measure your biceps with your arm straight, 1-2 inches above the crease in your elbow. Please do not measure your forearm.

Good support for elbow tendinitis
Great sleeve. Good for golf.
Great
Recovered from months of pickleball elbow issues and now always play with compression. Should have learned this lesson after the first occurrence a couple years ago. Used full elbow helix then, but from now on will never play without it. Needed extras as I play 4+ times a week. Easy to toss in the washer and dryer, gentle cycle my preference. Very supportive, just like the thigh helix I am never without...Overall great products that work for me.
Great support
Purchased for medial elbow tendinitis and it works great! With physical therapy and a home exercise program I'm on the path to recovery.