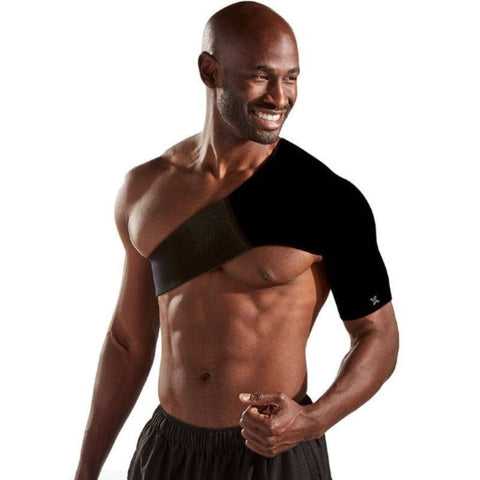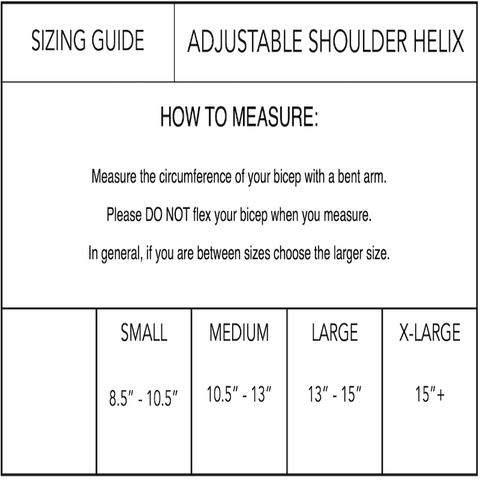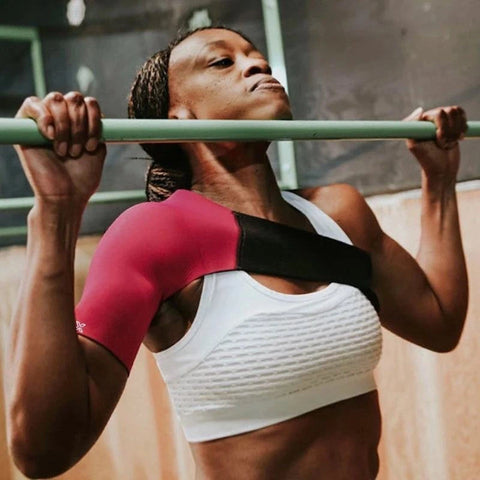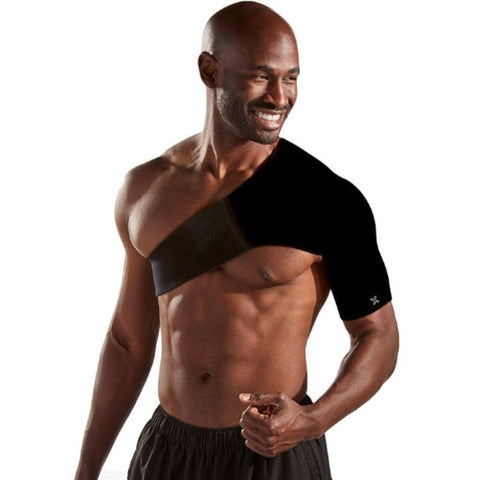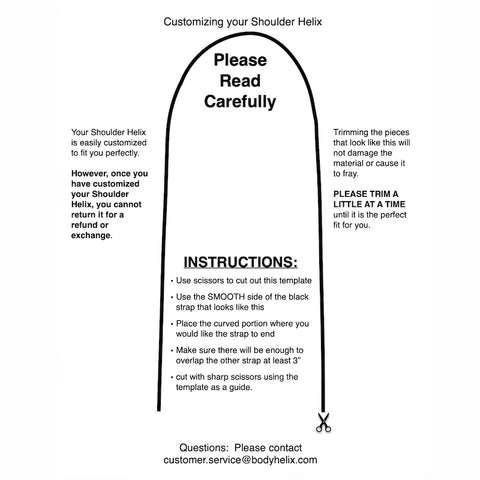 Adjustable Shoulder Helix
The Adjustable Shoulder compression sleeve is the ideal support for rotator cuff pain, frozen shoulder, biceps and triceps tendonitis, sub-deltoid bursitis,  AC joint pain, and injuries to the muscles of the upper arm.  It is an incredibly comfortable and effective shoulder brace to wear after shoulder surgery.
Sizing Information
Please see Sizing Chart in product images
How To Put On Your Helix
Click here to see videos on how to properly put on your Body Helix
Shipping & Return Policy
Product Description
Because our fully adjustable shoulder compression sleeve stretches more than the human body there is no restriction of motion, allowing compression that is uniform and consistent through your entire range of motion. This makes it an unrivaled choice for all sports in which overhead activity is routine such as tennis, volleyball, baseball, golf, and lifting to name but a few.
The Body Helix Adjustable Shoulder compression is the product of choice if you have shoulder joint pain or an injury to the muscles and tendons of your rotator cuff (supraspinatus, infraspinatus, subscapularis, teres minor), the muscles and tendons of your upper arm (biceps, triceps, deltoid), or the tendons of your chest muscles (pectoralis major and minor).
The warmth the Adjustable Shoulder compression sleeve provides can also be helpful if you have frozen shoulder, AC joint pain, subdeltoid bursitis, or arthritis of the shoulder joint.
The Adjustable Shoulder is comfortable enough to wear every day, making it the industry choice shoulder brace if you have had rotator cuff surgery or shoulder replacement surgery.
Proper Fit Is Important
Please see sizing chart in the product pics above
Our adjustable strap ensures the perfect fit and pressure for your shoulder brace!

Please note that the adjustable strap can be cut once you have found your optimal placement if you want to eliminate excess fabric. The strap will not fray after you cut it.  The product cannot be returned once the straps have been altered.

Able to still teach fitness classes now
I'm turning 73 and still teach fitness classes. I've tried numerous bulky shoulder braces but they all inhibited movement. I bought a small and then bought a medium since the small seemed a tiny bit too tight. I find I sweat profusely while wearing it but I guess that is what it's supposed to do to hold it against your skin. It's very easy to wash and dries quickly hung up. I wear it under my sports bra
Shoulder Harness
I have other body helix products that work fantastic! However, I am struggling with the shoulder harness staying in place and not sliding up underneath my opposite armpit and rubbing, creating redness and soreness. I watched the instructional video and did it exactly the way they showed it. I'm using this harness to help with a shoulder injury while I played tennis so it could be just all the movement is not conducive to the design. Disappointed and most likely going to be returning.
Hello,
Thank you for your honest review. Before you start the return process, maybe make one more attempt with the Adjustable Shoulder Helix. As with all of our products, it is designed to 'lock' to your skin with a layer of moisture. In the case of women who wear bras, there can be less skin for it to 'lock' to. Some women have had success doing one of two things... 1) wearing the Helix between your breast and pulling it down so you attach the velcro below your bra instead of having the strap go across your breast. Your breast should keep it from creeping up, but if you wet your skin below your bra before you secure the velcro, it will lock to your skin right away. or 2) wearing the Helix under your bra so the entirety of the adjustable straps are in contact with your skin.
Please let me know if either of these solutions work for you or if I can help in any way.
Joann
Customer Service Specialist
Body Helix
Great product
Gentle to the shoulder, keeps it warm, is comfortable and allows you to play with ease.
Cannot open the video to see if I'm wearing it correctly