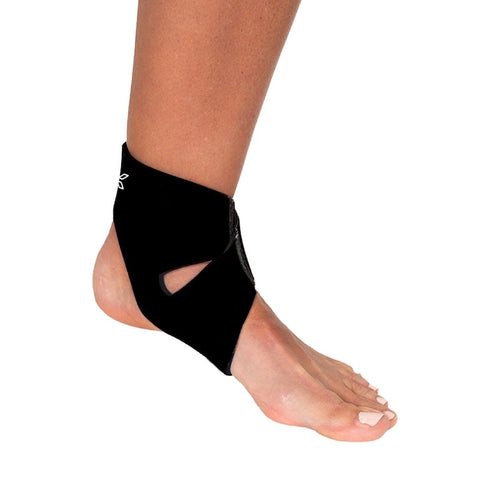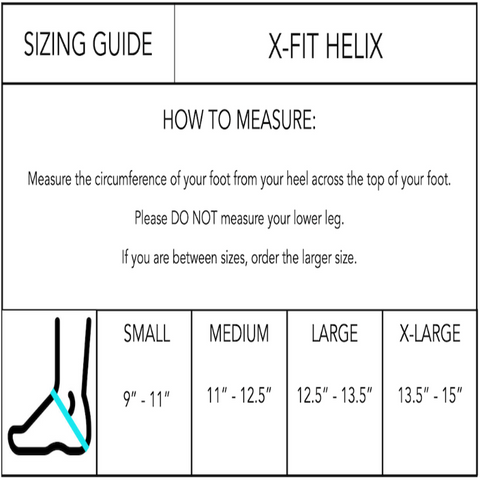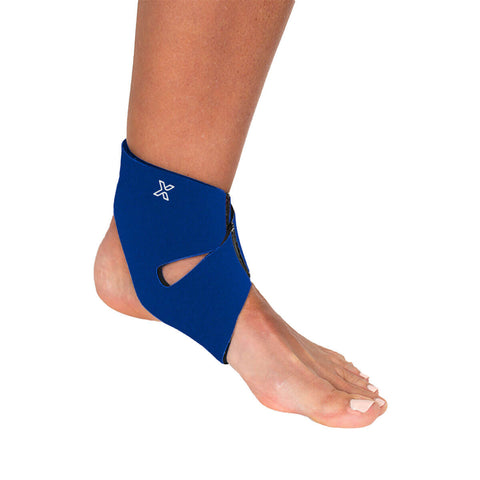 X-Fit Ankle Helix
The X-Fit Ankle brace unburdens tendons injured from overuse, provides uniform support for ankle sprains, and provides warmth to arthritic ankle joints.  It is the product of choice to help prevent re-injury by providing increased proprioception for the ankle joint.


Sizing Information
Please see Sizing Chart in product images
How To Put On Your Helix
Click here to see videos on how to properly put on your Body Helix
Shipping & Return Policy
Product Description
The X-Fit Ankle brace for increased proprioception provides compression in an "X" or figure "8" pattern design that fits comfortably inside your shoe. Wearing an ankle compression sleeve post-injury has been shown through research to reduce re-injuries through increased proprioception - your bodies ability to know where it is in space.
This ankle brace is an indispensable product for your "toolbox" if you have ever suffered from an ankle strain or sprain, providing support to your injured ankle ligaments.
It also takes pressure off sensitive ankle tendons which may have been injured from overuse or acute strains.
It is the product of choice for those who want support for the ankle joint itself with as little material in their shoe as possible.
For those suffering from Achilles Tendonitis that is concentrated in the lowest portion of the tendon or from mild plantar fasciitis, the X-Fit Ankle brace can provide warmth and support to your connective tissue, easing the pain associated with movement.
If you have arthritis of the ankle joint, this is a comfortable, easy-to-use product to help manage your pain.
What is the difference in styles?
The X-Fit Ankle brace provides support in an "X" or figure "8" pattern, covering the areas that are most often associated with a ligament sprain or tendon strain of the ankle joint. It is the preferred product for those who want as little material in their shoe as possible.
The Full Ankle Helix is a sock-like ankle compression sleeve with slips over your foot and ankle, covering the entirety of your ankle, the arch of your foot and much of your Achilles tendon. It is the preferred product for plantar fasciitis, Achilles tendonitis, or swelling of the ankle.
Proper fit is important
See Sizing chart in products pics
Please measure the circumference of your ankle, from your heel diagonally crossing the front of your ankle where it bends and going around and back to your heel. See the diagram for a picture. Please do not measure your lower leg. Please do not order based on shoe size.

Which size should I order if I am in between sizes?

If you are in between sizes, please order up.
For arthritis pain
I have pretty extensive arthritis in the subtalar joint of my foot from a bad injury many years ago. The pain can be excruciating and make me fall to my knees if I step incorrectly. Recently the pain was worse than it's ever been, different shoes weren't helping, heat and cold therapy were useless. After a couple of days I finally put this compression sleeve on and immediate relief. I have absolutely no arthritic pain in my foot. I even wore it for a couple days, removing it for bed, and gave myself some time in the evening without it and my pain was still gone. I've never experienced a compression sleeve that works so well. I'm truly grateful.
No instructions on the website
The website you gave had instructions for other products but none for the product that I purchased. There seems to be no support in the ankle area for my weak ligaments.
Blanche,
Thank you for your honest review. I think you are talking about the video for How To Put On A Helix when you say there are no instructions. Those videos can be a little hard to locate if you are not familiar with YouTube. On our videos page you will see the Shoulder as the thumbnail video for that playlist. At the top right of that video thumbnail there are 3 lines. If you click on those 3 lines you will see our complete playlist for the videos on how to put on your helix. The X-Fit is number 6 on the list.
We want you to be satisfied with your purchase, so if the X-Fit does not work for you, please contact me and I will help you with the return process.
Joann Nicodemus, COO Body Helix
Exchange
I sent item back and exchanged for 2 longer ankle sleeve for each ankle. Have not received and will need to pay the difference
The Full Ankle Helix compression sleeve
This is the most comfortable sleeve/brace I've ever worn. I have plantar fasciitis, inflamed ankle tendons, a heel spur and a bit of arthritis in my foot. This sleeve allows me to walk and do my daily chores without pain. My orthopedic doctor recommended this company and this ankle sleeve. Now I know why he did.
Also, customer service is superb.