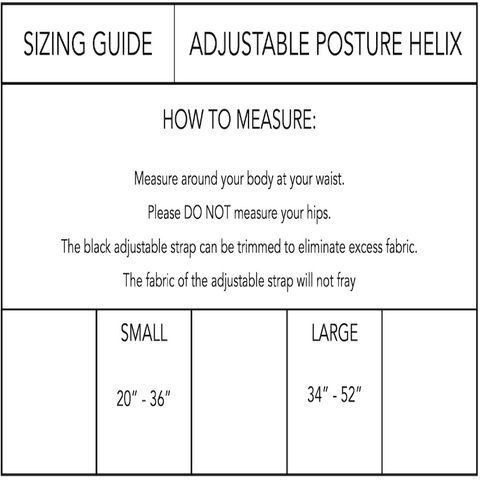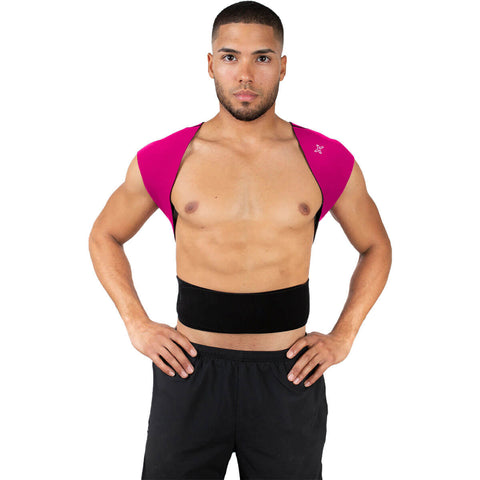 Adjustable Posture Helix
The Adjustable Posture Helix compression wrap is designed for those who sit at a desk or computer, providing support to the muscles, tendons and ligaments of the back.  It is also beneficial for myofascial upper back pain related to poor posture.
Sizing Information
Please see Sizing Chart in product images
How To Put On Your Helix
Click here to see videos on how to properly put on your Body Helix
Shipping & Return Policy
Product Description
The Adjustable Posture Helix supports your scapula and helps hold your shoulders back ("reminds" you to stand up straight) by applying comfortable pressure to your scapula, helping to ease myofascial upper back pain that can be associated with muscular imbalances from poor posture.
This is a Helix that is so comfortable that you will want to wear it every day, and so effective that you will immediately feel like you have better posture.
Please note that there are many causes of back and chest pain. Please seek medical evaluation for prolonged or severe pain.
Arthritis of the spine is a problem of the spine joints. Our product will not help pain solely related to arthritis, but if there is associated muscle spasm the compression and warmth may aid in reducing pain.
Proper Fit

Please see sizing chart in product pics above
Please measure the circumference of your waistline. Please do not measure your hips. Please do not measure your ribcage.

This Helix is fully adjustable and customizable. Some users prefer to wear the adjustable strap closer to their hips for more support, while others prefer to place the adjustable strap higher on their waist. Therefore, you may want to experiment with the placement of the adjustable strap to find your most comfortable and effective fit. Please note that the adjustable strap can be cut once you have found your optimal placement if you want to eliminate excess fabric. The strap will not fray after you cut it.  The product cannot be returned once the straps have been altered.


no customer service reply-
Cannot contact them...no phone...they won't answer my e mails....What kind of a company is this??????
Lesley,
We hope that you will reconsider changing your view of our company and your review of our customer service since the responses to your emails were sent in a timely manner but ended up in your spam. I'm glad we were able to finally connect and resolve your issue. I hope our resolution will be to your satisfaction.
Joann Nicodemus
Customer Service Specialist
Team Body Helix
Comfortable posture assist
I could tell when I first put it on, that the body helix was going to help me with my posture and back pain. I could immediately see a straightening of my spine with this very comfortable piece of clothing.
No Instructions, Overpowering Smell, Works Well
A note included with the brace said to refer to the website for how to put on the brace - I searched everywhere on the website but couldn't find it. I had to look at multiple pics to see how to wrap it. Better information should be provided with the shipment. I've purchased many Body Helix products, and by far this support had the strongest odor. I ran it through 3 washing machine cycles so now it's tolerable. The good news is, the brace works great. Once you figure out how to wear it, you get a nice, comfortable tug on your shoulders to help with posture. My wife commented that there's a noticeable difference in my posture when I wear it.
Hi Mark,
To see the videos for how to wear your Adjustable Posture Helix, please visit the URL provided on the note in your shipment: https://bodyhelix.com/howto/
On this page, if you scroll down, you will see the video for the Adjustable Posture Helix. We are glad to hear you like the product and that it is helping with your posture. If you have any other questions or concerns, please feel free to reach out to us. Feedback like yours is important to us!
-Team Body Helix
Did not work
Returned this product because it did not fit. It was to big.
Hi Joanne,
I am sorry your Posture Helix did not fit. We will have our Customer Service manager reach out to you to remedy the issue.
Thanks for your feedback!
-Team Body Helix