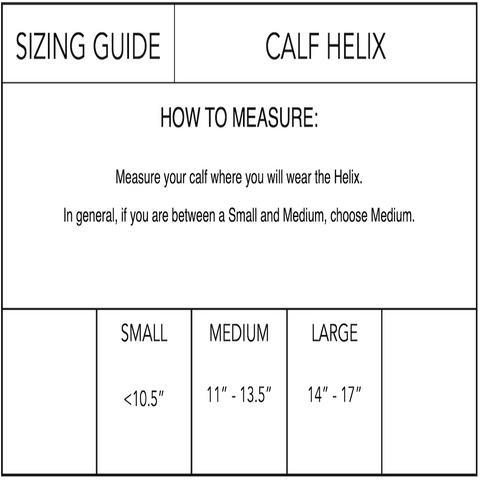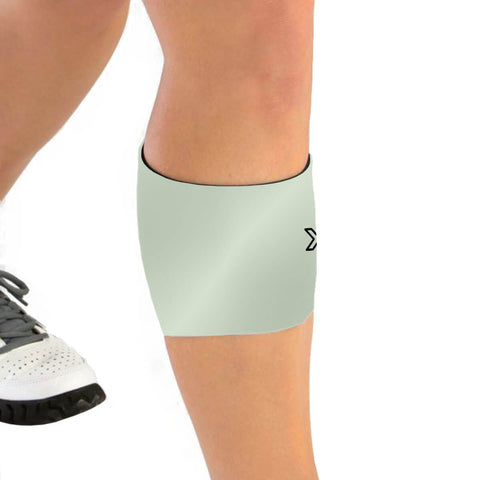 Calf Helix
The Calf Helix calf support sleeve for men and women provides support for torn calf muscles, helps speed muscle recovery, offers relief for shin splints from driving, provides warmth for Achilles tendonitis, and aids in injury prevention.
Sizing Information
Please see Sizing Chart in product images
How To Put On Your Helix
Click here to see videos on how to properly put on your Body Helix
Shipping & Return Policy
Product Description
The Calf Helix calf support sleeve for men and women is an excellent choice for prevention of injuries and re-injuries, warming your muscles to increase blood flow and limiting muscle oscillation to delay the onset of muscle fatigue, ensuring you can play at your best and leave it all out there.
This calf compression sleeve is ideal for management of calf injuries, enabling you to play through minor pulls/strains/tears/spasms and whatever else you may call the pain you want to manage while you Move Through It.
The Calf Helix is an ideal choice if you suffer from Achilles tendonitis, warming the tendon slightly and making it less painful.
When it's all over, the Calf support sleeve is the perfect choice for post-exercise recovery, keeping your muscles warm while your body works to flush out waste products from muscle exertion, ensuring that you will have the best shot at performing at your highest level the following day.
What is the difference in styles?
The Calf Helix is preferred for a small, targeted area of the calf, for Achilles tendonitis, and for injury prevention in the warmer months.
The Full Calf Helix is preferred by the taller athletes and for those who wish to have a larger portion of their calf protected. It is the better product for shin splints.
Proper fit is important
Please see sizing chart in product pics above
Please measure your calf at its largest circumference where you plan to place the Helix. If you plan to wear the Calf Helix for Achilles tendonitis, please measure your lower leg 3-4 inches above your ankle.


Good support
Helps with torn calf —able to play pickleball !
Short calf brace.
I am extremely happy with this brace. It does the job with limited discomfort. It appears to be a high quality product. I would highly recommend this product.
Calf Helix SAVED ME
Without the calf helix, my mobility was very limited—very light workouts only. With the calf helix, I could move freely during my workouts and I was able to recover faster. Strongly recommend this product.