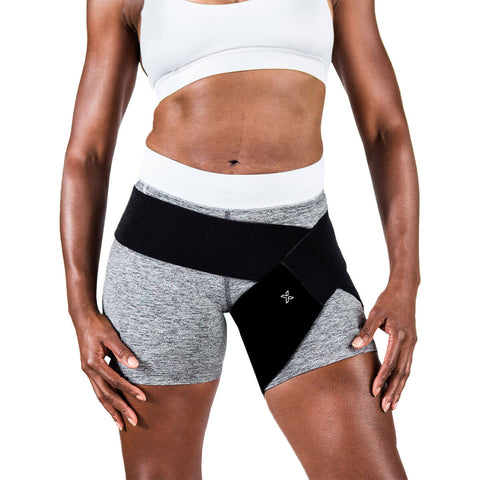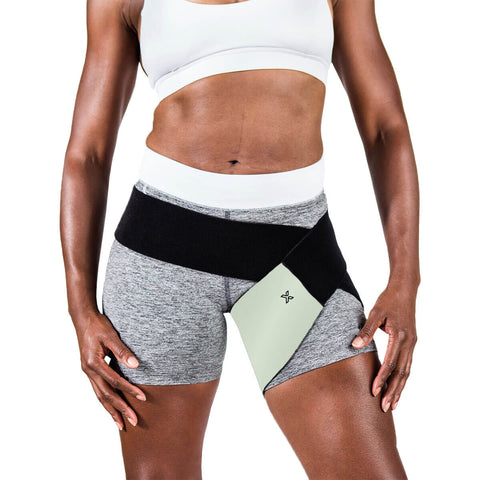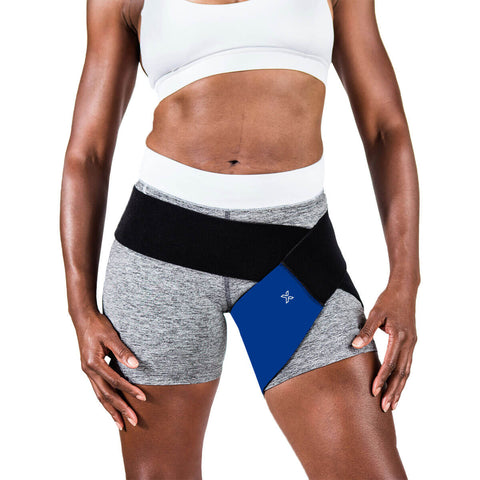 Adjustable Groin-Piriformis Helix
The Adjustable Groin/Piriformis Helix compression wrap is ideal for both injury management and injury/re-injury prevention, providing support and warmth for the muscles and tendons of the groin, hip flexors, and buttocks.
Sizing Information
Please see Sizing Chart in product images
How To Put On Your Helix
Click here to see videos on how to properly put on your Body Helix
Shipping & Return Policy
Product Description
Groin strain is a common injury in both explosive and endurance sports. Our groin compression wrap for women and men is ideal for management of injuries to your groin (gracilis, pectineus, adductors longus and brevis) enabling you to play through minor strains of the muscles and tendons. It can be comfortably placed high in your groin without being a distraction, freeing you to focus on your sport. The adjustable strap ensures the perfect fit.
Because of its unique design, our groin wrap also provides warmth and support to injured muscles and tendons of your buttocks (the gluteus maximus and the external rotators of the hip including the piriformis), portions of your hip flexors (rectus femoris, sartorius, iliopsoas), and your tensor fasciae latae (TFL). It can be adjusted to sit higher or lower on your hips, ensuring coverage over the area that is injured. The adjustable strap ensures the perfect fit.
The Adjustable Groin compression wrap is an excellent choice for prevention of injuries and re-injuries, warming your muscles and tendons to increase blood flow and limiting muscle oscillation to delay the onset of muscle fatigue, ensuring you can play at your best and leave it all out there.
What is the difference in styles?
The Adjustable Groin wrap specifically supports the groin muscles, the tendons of the hip flexors, the external rotators of the hips, and the gluteus maximus.
The Body Helix Thigh Helix and Full Thigh Helix can provide limited support to the groin muscles if placed correctly but are better utilized for quad and hamstring issues.
Proper fit is important
The Adjustable Groin wrap is 51.5 inches long and is "one size fits most (but not all)". The benefits of the compression are lost if you stretch the material past its optimal elasticity.
Groin /piriformis wrap
First, I have to say that I have been wearing body helix for 5 years since you the National Clay Courts in Bocage. I think I met you there Fred. I have the elbow, groin, bicep, & calf. I really like this piriformis/ groin( wish it went down a bit further on the bum to cover area where ligament inserts into bone there. But not sure how you could do that. But, it is really making the piriformis feel contained & supported. Thanks for keeping all of our body parts healthy, Carol
Fits great, seems to take pressure off of my strained tendons. Would definitely buy again.
Love it
Very helpful for hip slap tear and hi hamstring injury. I wear one on each leg..keeps me playing tennis
Unsurpassed quality and function
I can't say enough about the Body Helix brand. Each product I've tried is a miracle. Relief from pain and swelling and the support provided aside, I'm finding that after a week or two of use the support is no longer needed